Sängerin für Gala, Veranstaltung, Events, Firmenfeiern
Live Programm für Ihre Galaveranstalung
Sie suchen eine Sängerin mit oder ohne Band für Ihren Galaabend, Ihr Eventoder Ihre Veranstaltung?
Buchen Sie Vilma Remezaite mit und oder ohne Band.
Vilma sorgt für die passende Stimmung auf jeder Veranstaltung. Lassen Sie sich von der Stimme begeistern und erleben Sie mit Ihren Gästen ein fulminales Programm, welches den Abend für Sie und Ihre Gäste unvergeßlich gestaltet.
Wählen sie eines der beliebten Galaprogramme:
Galaprogramm (Klassik)
Galaprogramm (Musical)
Galaprogramm (POP)
 Gerne stellen wir Ihr persönliches Galaprogramm zusammen.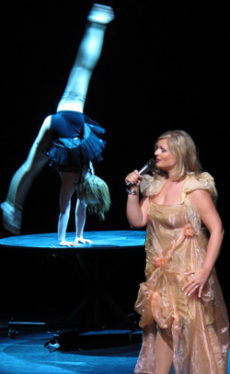 Galaprogramm (Klassik)
La Traviata - Libiamo Nei Lieti Calizi
Rusalka - rusalkas Lied an den Mun
Tosca - Visi D'Arte
Manon Lescaut - Giacomo Puccini
O mio banbbino caro - Gianni Schicci
Die verkaufte Braut "Oh tut das weh. Mein Liebestraum"
Ave Maria - J. S. Bach / Gounod
Ave Maria - Franz Schubert
Panus Angelicus - Cesar Franck
Ombra mai fu - Georg Friedrich Händel
Porgi amor - W. A. Mozart
Lascia ch'io pianga - Haendel
Se tu m'ami - G. B. Pergolese
Dona Nobis Pacem - Mary Lynn Lightfoot
Carmen - G. Bizet Habanera, Seguidilla
O sole mio - Eduardo Di Capua
Santa Lucia
Komm, Zigány "Gräfin Mariza" - Emmerich Kálmán
Bei Dir war es immer so schön "Anita und der Teufel" - Theo Mackeben
Meine Lippen, sie küssen so heiß "Giuditta" - Fritz Löhner-Beda
Azucena "Der Troubadour" - G. Verdi
Dein ist mein ganzes Herz  "Das land des Lächelns" - F. Lehar
Brautlied er Marie "Zar und Zimmermann" - A. Lortzing

Galaprogramm (Musical)
Memory "Cats" - L. Weber
Cabaret
Evita - Don't cry for my Argentina
Magdalene aria- (Jesus Christ Superstar
All I Ask of You - Lloyd Weber
The Way we were - Marvin Hamlisch
My Funny Valentine - Richard Rodgers
Manha do Carnaval - Luiz Bonfa
Hello Dolly - Jerry Herman
People - Jule Styna
I Dreamed a dream - Miserables
Dir gehört mein Herz (Tarzan)
Summertime - Porgy and Bess
Du allein "Starlight expres"
Bésame mucho - Consuelo Velázquez
I remember you - Victor Schertzinger
Amazing Graze

Galaprogramm (POP) 
Who wants to live forever
Adagio - Lara Fabian
Per te - Josh Groban
Remember me - Josh Groban
Mi Mancherai - Josh Groban
Halleluja - Leonard Coheus
Comme ils disent - Lara Fabian
Je suis Malade - Lara Fabian
Alone - Celin Dion
Is it True - Yohanna
Love - Sasha Son
Laila- Sihri Maimon
Halo - Beyonce
Look at me - Geri Halliwell
I Feel Like a Woman
Resistance - Muse
Time to say goodbye - F. Sartori
Listen - Beyoncé
Angels - Robbie Williams
Bringe me to live - Evanescence
Someone like you - Adele
Ich wollte nie erwachsen sein - Peter Maffay
Die Rose - Amanda McBroom
Vivo per lei - A. Bocelli
Bei Buchungsanfragen wenden Sie sich bitte per E-Mail an: booking@vilmaremezaite.de.